High Ropes Course (7th Grade-Adult)
Develop partner and personal growth. Review and practice with equipment before being challenged by twelve different elements on our 28-foot high course.
Group Size
Program Length
3 hour minimum required for 6-9 participants
4 hour minimum required for 10-15 participants
Fees
Youth/Family: $74/hr. per group in Wheaton/Dist. 200, $92/hr. per group out of Wheaton/Dist. 200
Colleges, Park Districts/Teacher Professional Development: $99/hr. per group
Adult Nonprofit: $21/hr. per participant
Corporate: $32/hr. per participant
Balance Beam: Cross a telephone pole balance beam.
Balance Board: Move from one end of a teetering platform to the other.
Burma Bridge: Cross a cable bridge using rope handrails.
Cargo Net: Climb from one side of the net to the other.
Hourglass: Move across a crisscrossed rope bridge.
Island Hops: Move from platform to platform to complete this element.
Multi-Vine Crossing: Use vertical hanging ropes to move across a cable.
Suspension Bridge: Cross a wobbling cable bridge using two rope handholds.
Swinging Discs: Wooden discs hang from ropes. Move from disc to disc to complete this element.
Wild Woozy: Pairs move from the vertex of a triangle to the widest part.
Trestle Bridge: Cross from one side to the other on wooden planks.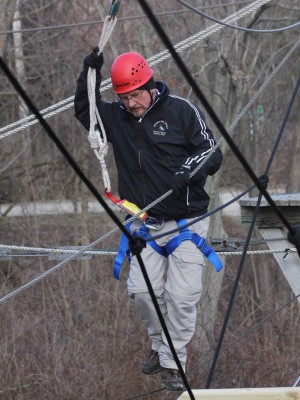 Tension Traverse: Use crisscrossed ropes to move across a cable.